Mailbag
My email was filled with reaction to my opinions on the coverage of Michael Sam's reaction to being drafted, but I've chosen to look at an email that was less emotional.
However, it was amazing to me how many people were willing to sit in judgment of Sam's life choices through email rather than call the show. That is usually the case when someone wants to condemn someone else. It is much easier to email and not face a response than it is to have a public discussion on the radio. Better to fire your shots and shut it down than face a rebuttal. I think that speaks for itself.
Instead I chose Dan's email. It forced me to think… and forced us to figure out a way to get a link to old interviews on the website. But why would we, a radio station, be able to easily link to our product on the website? It was also fun thinking about what was in the books. Many other good books went unmentioned, but what are you going to do?
Subject: 8 Easy One's
Soren -
Listen to your show daily as I put in serious windshield time driving around the Metro.
Okay here we go 8 easy one's for you. Tell me the top thing that pops into your mind for each question.
What are your top 4 interviews/podcast so I can go back and listen?
What are your top 4 books relating to sports or life that you have ever read?
Thanks
Dan Glover
Dan,
Wow! That's a tough one… or two.
Let's start with the interviews. Many ways to go with that… importance of the person being interviewed, breaking news, entertainment value, etc. I tend to be partial the ones that are very informative and give insight to how things work in the sports world. Whether that is getting into the mind of the manager and understanding how he puts together his lineup and bullpen, the GM's approach to building a team, or the thoughts of a quarterback as a play is developing or breaking down.
Here are a few that come to mind.
Ned Yost
Before this 2014 season
We talked early in the 2014 Spring Training. I was able to talk to him about the persona that has developed around him in Kansas City. He let his guard down a little and actually joked around. I think it showed that there is a human being in the Royals dugout and not just a crusty movie impression of a baseball manager.
Andy Reid
In studio after the playoff loss to the Colts
Reid talked about a difficult playoff loss to the Colts when it was only a couple days old. He talked about the quick decision to bring Bob Sutton back as the Defensive Coordinator. Reid broke down why at the end of the game he called the 4th down play he did and why it didn't quite work.
Dayton Moore
At his 5-year anniversary
When Dayton was hired I said fans wouldn't be able to really evaluate the job he had done until he had been on the job for 5 years. At the five year mark (maybe even to the day), Dayton joined us in studio and helped break down what had been accomplished to that point and what was still at hand.
Alex Smith
Going into the bye week last year with a 9-0 mark
The Chiefs were flying high at 9-0 and heading to a vacation. Smith was relaxed and gave a very candid look at a play that had broken down in the last game. It gave some great insight into how the QB thinks under fire.
Kevin Seitzer
The day he was fired by the Royals
Kevin was clearly very disappointed and hurt by the decision. He was as honest as maybe any person I've ever interviewed in a situation like that. Seitzer detailed how Ned Yost had asked him to change the team's hitting approach to one that tried to hit homeruns midseason. He talked about the struggles of trying to get Eric Hosmer turned around and why he thought it wasn't working. It was must listen to radio.
As I look at the list, there are a few things that jump out at me.
First, each person held a position of real significance in the Kansas City sports scene. It's clear to me that the best interviews come from the people that either have or can affect change in a major way.
Second is the person being interviewed is passionate about what they do. They are committed to how they do things and are not afraid to talk about it. Doesn't mean the fans (or myself) necessarily agree with their methods, but they believe 100% in what they are doing and that makes them an entertaining listen. Their devotion makes an impact on the listener (and me).
Finally, they are all people in a position to be questioned and second-guessed by the media, and more importantly, the fans. I think the fact that their job performances are an open book, and measured in wins and losses, makes the insight into what they do (or did) and why they do it that much more interesting.
I know you asked for four and that's five, but you said first though. I had five of them.
Now the books… I'm not a really fast reader but I'm always slugging my way through at least one book. I've got a stack of books I want to get through at all times. Not enough time in the day.
Here's what popped into my mind… after I went downstairs and looked through the shelves.
Moneyball
Michael Lewis
It's a classic. I read it when it first came out. I've been told it might be even better reading it today because you can see how everything turned out. The fabled "Moneyball Draft" is in its 30's and you can see how it turned out in the long run. I would offer up what the author Michael Lewis told me about the book. "It's not about on base percentage, it's about Billy Beane's ability to find value where others don't see it."
You're Missing a Great Game
Whitey Herzog
It you are a baseball fan it would be a good back to back read with Moneyball. Published in 2000 before much of the statistical revolution became mainstream in baseball it is a informative and entertaining look at baseball from one of the great managers in the game. Herzog's irreverent humor and musings make for a fun read, but his experience and knowledge earned over a lifetime in baseball make it very insightful as well.
When Pride Still Mattered
David Maraniss
This is a great biography detailing the life and death of Vince Lombardi. It doesn't just focus on Lombardi's time as head coach but gives great background into the younger life that shaped him into the consensus greatest coach that ever lived. His time as an overachieving standout at Fordham is great stuff, as is the detailing of his time as a fellow assistant coach on the Giants staff with Tom Landry.
Rozelle: Czar of the NFL
Jeff Davis
This is a great look at the man who at the very least stood watch on the growth of the most powerful sport in America. The book details the rise of Rozelle and the numerous decisions he made while shaping the league into what it is today.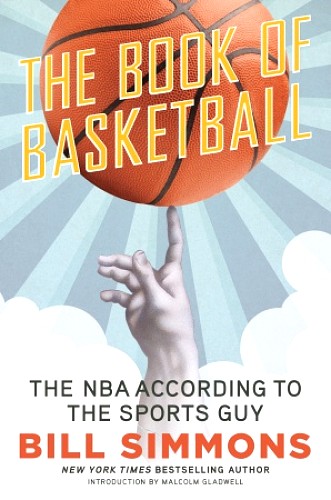 The Book of Basketball
Bill Simmons
The name of the book should probably be "The Book of Pro Basketball" because there is no mention of college anywhere. There are references to the ABA here and there but Simmons passion for the NBA is clear. It looks like it is about 1,000 pages and while it's not, that number can be seen from its finish. Using the same entertaining style he uses in his blogs, Simmons weaves many funny stories from his own life into a complete analysis of the NBA.
Those Guys Have All the Fun: Inside the World of ESPN
James A. Miller
This is a tell-all behind the scenes history of the "World Wide Leader in Sports." That pretty mush says it all.
I know you only asked for four… but what can I say? I over-delivered. I figured there was a chance you had read some of the books or wouldn't be a big fan of one of the sports, so you can pick the four you think would be the best read. I expect a book report on each in the coming weeks.
Thanks for listening,
Soren Petro